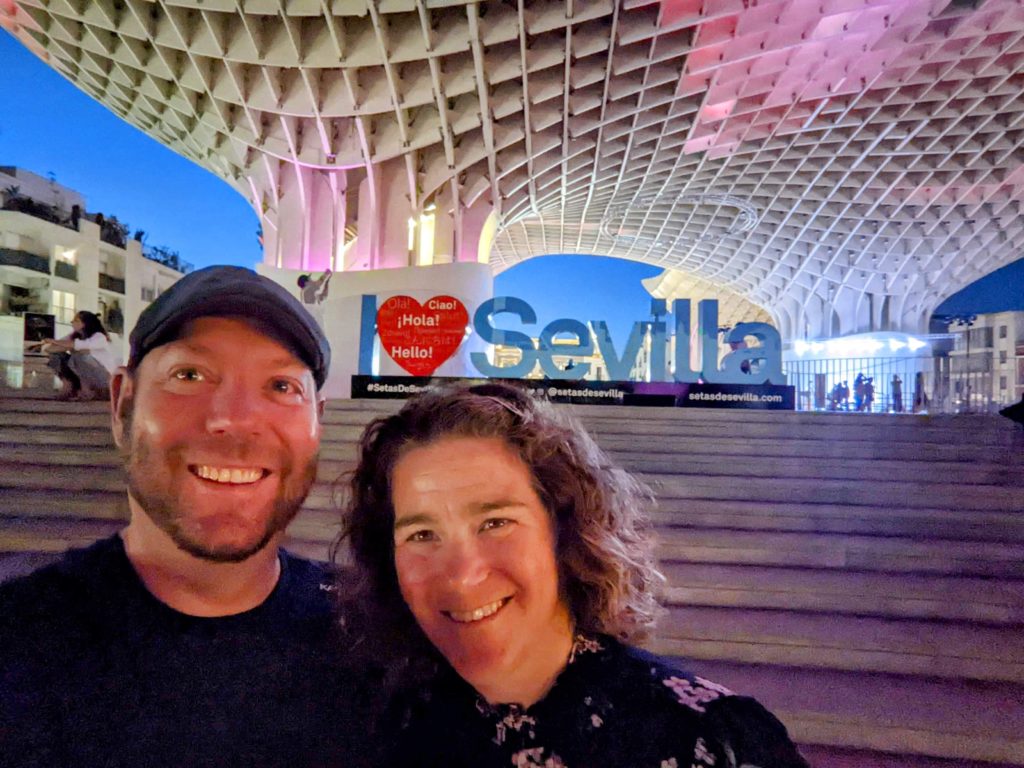 After Barcelona, we hopped on our first flight within Europe, to Seville. We have been using our Eurorail pass extensively, but struggled with getting necessary seat reservations for Renfe, the Spanish train company, and so it was cheaper to book our flights for this short hop down into southern Spain. We landed and immediately felt the heat! It was much warmer in Seville, but less humid, and we quite enjoyed it. Our hotel was near the old city walls, and had a rooftop pool that we took great advantage of. The daytime highs were always in the upper 30s and we had wonderful weather the whole week.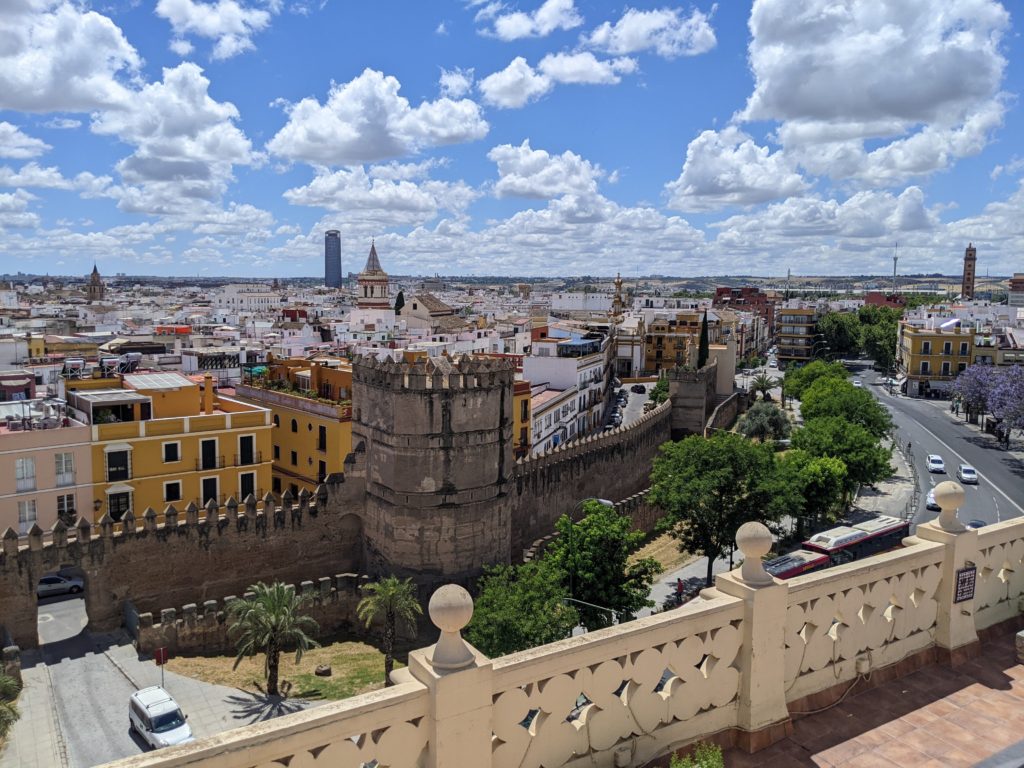 We really enjoyed walking around Seville and found it quite easy to navigate the narrow and shady streets. The city was designed to create shade corridors and many streets also had wide canvas covers to give everyone a break from the sun. The city is know for its tapas and flamenco dancers and we got to enjoy both, as well as exploring the central cathedral, and Alacazar palace and gardens. There was also a relatively new structure in the center of the city called the Setas de Sevilla, or "mushrooms", which showcased a wonderful wood structure that was beautifully lit up at night.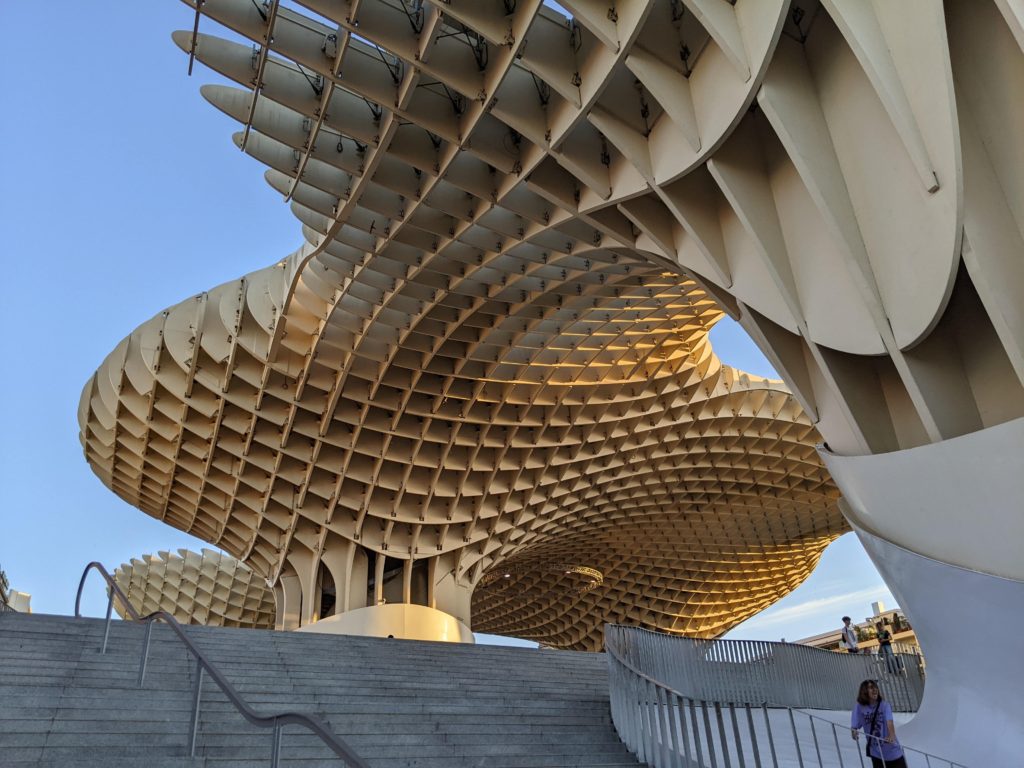 Caroline had orrganized an intimate Flamenco presentation for us on the other side of the river, in the old town that Flamenco was born. We learned a lot about the history of Flamenco dancing, as well as an hour long dance, with beautiful music and singing. We were so close to the dancers, we could feel her dress as it swept passed our knees! The emotion, the expression, the tempo and the energy of the moments were engaging and impressive. We came out of the small room beaming with excitement and fueled by sangria. It was definitely a highlight of our time in Sevilla.
We also enjoyed learning about the islamic influences in Seville, where we explored the Alacazar, a Palace with attached gardens that were so beautiful in design and expression. We learned all about the history of the ceramics and tile design that were exported all around the world from this central place. We loved the intricate designs on the ceilings, and in the mosaics and in the layout of the palace and gardens. It was a truly special visit, coupled with the Cathedral de Seville and tower, with its magnificent views of the entire city.
Below the Alacazar was a bathroom and bathhouse that was cool and refreshing break from the heat outside. It was also a set piece for the Game of Thrones and many other famous movies and tvshows. It was a busy place, but still had lots of little spots to sit and enjoy the ambience, appreciate the history and cool down for a few minutes with a cool drink.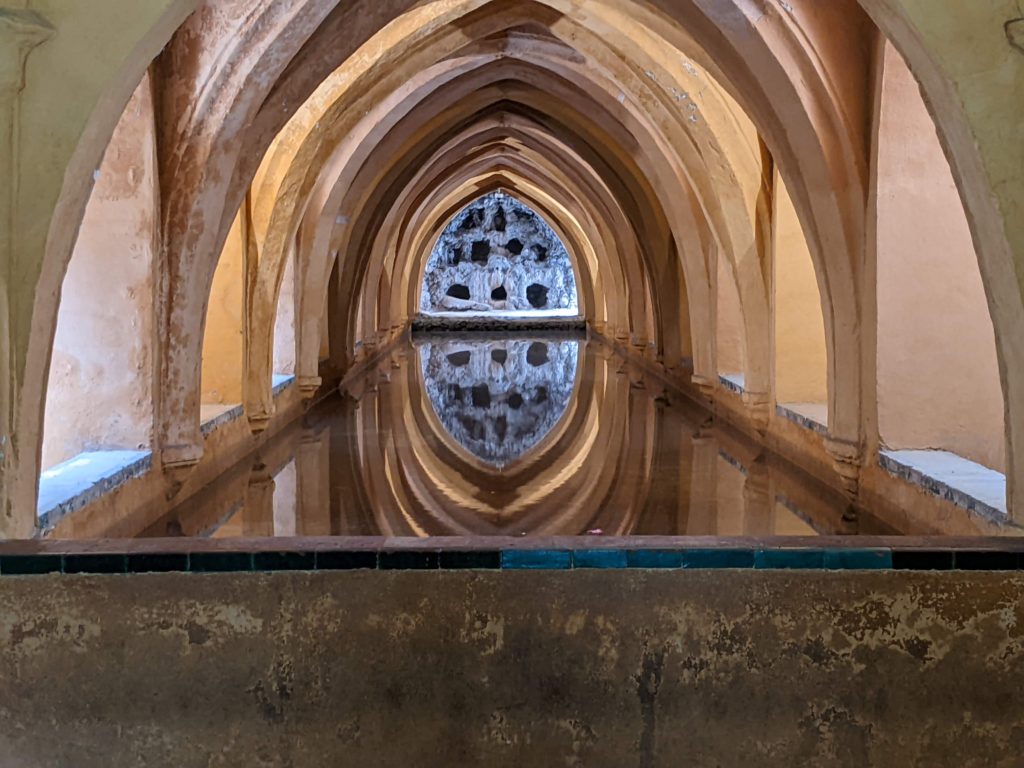 The Gardens surrounding the Alacazar were truly special and expansive with beautifully landscaped areas, wandering peacocks announcing their presence and refreshing fountains. We strolled through for a couple of hours, appreciating the gardens and gorgeous roses and other flowers punctuating the lush landscape.
One of our day-trips from Seville was to take a public bus about 10kms away to a little suburb called Santiponce, where there was the ruins from an ancient Roman city called Italica. This exhibit told the story of this ancient city of 20,000 people and how they lived, with bathhouses, arenas, markets and housing. It was very well done and we learned even more about the ways Romans built their citys, provided their citizens with water, food and security, and entertained them. It was also a great lunch when we went to a nearby restaurant and had the seafood fried appetizer platter, with everything on it!
Our other day trip was to take the train to Cordoba, which was about 1 hr away. Cordoba also has a lot of fascinating history with Islamic influences and a very famous Cathedral Mosque, and an old roman bridge that crossed the river. The city was easy to explore, and had many interesting sights to check out, unfortunately for us, we went on a Monday when many of them were closed! We did stay cool by enjoying some gelato, and having a nice meal in the El Corte Inglés department store cafeteria, which was delicious, affordable and air-conditioned! It was almost 40 degress celcius that day and we worked hard at staying cool, while also checking out the Cathedral Mosque, and its cool interior. It was an expansive, gigantic space with beautiful arches and an inviting interior that we wandered and appreciated for the afternoon.
One of the most photographed spots in Cordoba is the Calleja de las Flores, a tiny little street covered with flowers and from the right angle, a view of the Cathedral tower. It was a nice little stroll, and Caroline especially appreciated the beautiful flowers.
Overall, we loved the Andalusian region of Spain and its history, culture and food, we became experts in different tapas, Cañas and sangria, as well as flamenco, paella, and ceramics. We have lots of ideas for hosting summer time get togethers at home, and maybe even some tile design for some home decor one day. We appreciated the heat and sun, and are definitely getting a good tan (for Caroline) and no sun burns (for Aaron). Be sure to check out the video below, especially after the credits to see a bit of our Flamenco presentation and for more pictures of this time, see the link below the video.
Adios for now!
Check out our photos here: https://photos.app.goo.gl/LDgeFgvrRpxU1zUX7