We left the coast of France, and headed back in time! Caroline had done a little research and learned about a cool little city a few hours away by train, full of ancient Roman ruins and lots of history and french culture to explore. Off to Nimes we went! We arrived to great weather and pleasant suprises, as the city was welcoming, not too busy and very easy to navigate. Our AirBnB was about 20 mins walk from the Train station and we had to walk through the center of town to get there. Along the way we discovered the amazing Arena, a cute downtown core, full of shops and restaurants, patios and fountains, and a bustling daily market we enjoyed many times.
The first touristy thing we explored was the impressive Arena, right in the center of town, and imposing over the central square. There was a great audio guide, and it educated us about the history of the Arena, the types of entertainment provided, and the different influences over the years. Currently, the Arena is in great shape, well restored and used often for Bull fights and concerts, as well as city festivals. In the past, it had been taken over with housing, was fallen into disrepair, used as a fortress, as well as its glory days during the Roman times in 70 CE. You can read more about here.
We also enjoyed the tour around the city on their "train" bus, which gave us a great overview of the highlights, history and places to check out later. Again, it was pleasantly hot, not too busy and easy to get around. We loved learning about the central spring of the city, which fed into these canals, gardens and fountains, as well as supported the textiles industry of the past, which innovated the creation of Denim Jeans, made from "des Nimes". We walked through the beautiful gardens, saw the central spring, the fallen down Temple of Diana, and the Tower on the hill, all great examples of Roman engineering and civil infrastructure.
Across the street from the Arena, was a very modern museum all about the Roman history of Nimes, and an impressive collection of artifacts, exhibits and innovative displays like the picture above, where Caroline is demonstrating the latest in Roman fashion. We had lots of space in the Museum, as they were not many other tourists, and it was very educational, and worthy of a visit when in town. We also enjoyed many tasty and delicous meals around town over a few evenings, enjoying the local specialty, Bull meat, as it is on almost every menu! One of our meals was extra special as we were seated next to a young Scottish couple on a weekend vacation, and we spent the evening chatting and getting to know them and talking all about the similiarities and differences between Canada and Scotland!
One of our big adventures was to take a local bus to the town of Uzes, about 40 mins away, where Caroline had arranged for us to rent some E-bikes to ride out to the Pont du Gard Aqueduct, a truly impressive Roman installation that brought fresh safe water to the people of Nimes from over 50 miles away! The ride was gorgeous, as it was a very nice day, and the bike path was easy and smooth. We rode past a lot of farms and fields and through a couple small villages and enjoyed the ease of our E-bikes, speeding us along the route.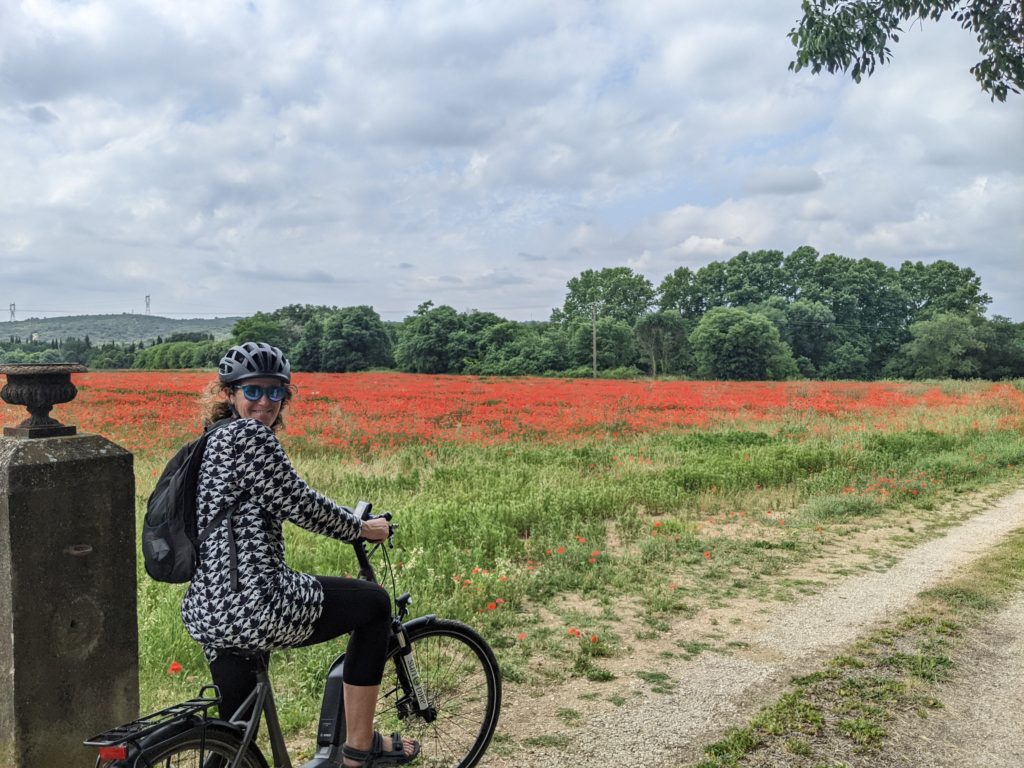 The Pont du Gard Aqueduct was an amazing feat of Roman engineering and demonstrated their technical abilities and wealth at the time. It is still special today as it is the tallest, best preserved aqueduct left in the modern world and attracts people from all over to spend some time in awe of it. There were tourists from all over the world, as well as school groups, locals and us, enjoying being in the presence of this amazing structure. We walked over it, and explored a viewpoint from the right hand side, as well as went down to the river below. Overall, it was a great day of riding, exploring and learning more about the Romans and their empire.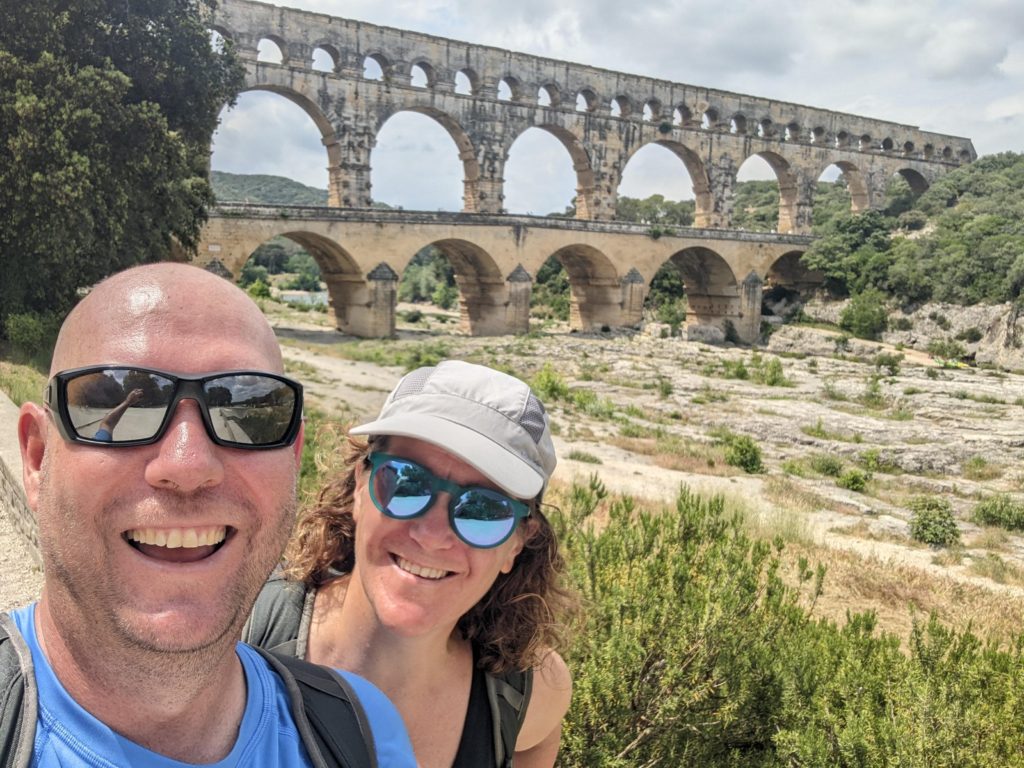 Nimes, France should definitely be on your list of places to visit if you are nearby. It has everything you would need, plus much more to make your visit enjoyable and informative. The people were friendly, and they had so much to do and see. We highly enjoyed our time and would love to return again one day. Check out our video below to see how much we enjoyed this area, and the photos are linked below the video. Cheers!
Check out our photos from Nimes here: https://photos.app.goo.gl/pfYZhZAzdGzMXTJH9