We spent a full week exploring the Canadian Prairies. We had great weather and good driving conditions for the whole time. We tried to stay north as we came down from Fort St John and skip along northern Alberta and Saskatchewan.
Our first night was in Fahler, Alberta and it was full on harvest time. Combines in the fields, farmers working and hay rolls everywhere. Fahler is also the honey bee capital of Canada and had a huge bee in town. We stayed at a beautiful municipal park with power, showers and just a couple other campers.
We drove through Cold Lake, Alberta, home of the Snowbirds and giant air force base. We spent a night at Beaver Creek provincial campground. It was decent, but busy.
Next day we crossed into Saskatchewan and visited Athabasca, which was a nice stop and had some interesting history. We then spent two gorgeous days at a giant, empty mega campground near Battleford, Saskatchewan. It was strange to be at a spot that had thousands of campers a week earlier and now it was just us and the retirees.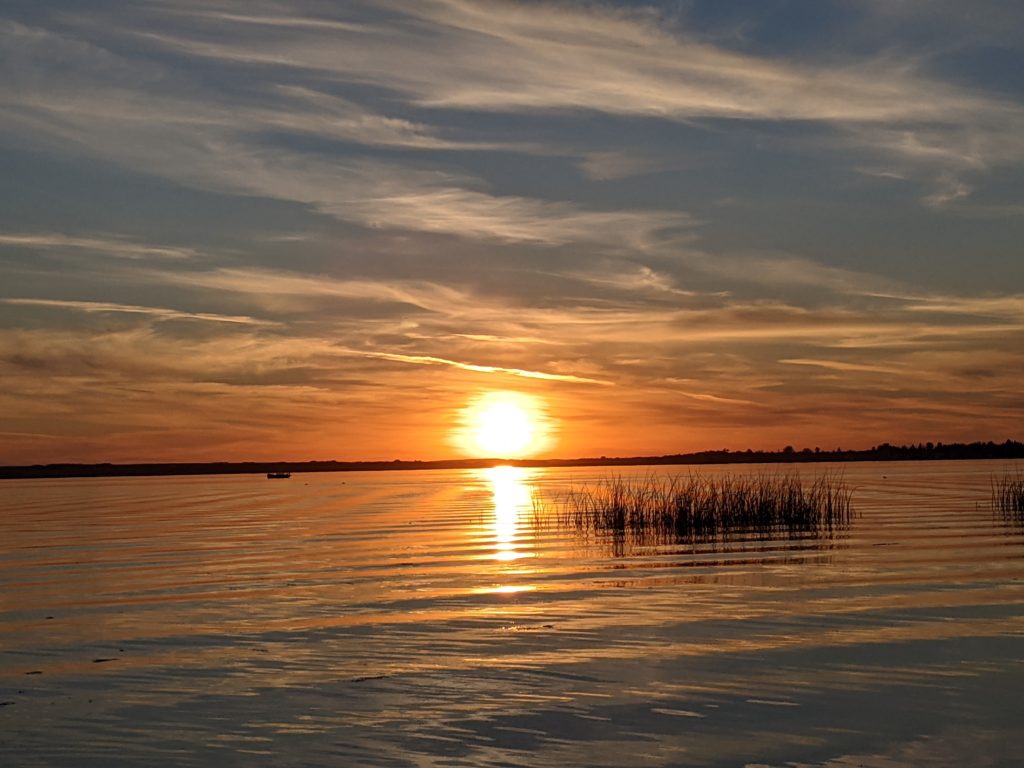 We had power, showers, sunshine and space, and so we settled in for 2 nights. We had a few nice hikes, a couple of refreshing swims and lots of time to read.
After Battleford, we headed straight for Saskatoon to do some laundry and also get a hotel room for the night! (Our first one!) We also enjoyed a nice dinner out to celebrate Caroline's birthday. Good thing we brought some nice clothes.
After Saskatoon we went south and aimed to hook up with the trans Canada #1 highway. Our main road for the rest of the trip. We also had our check engine light come on! We knew it was a minor issue, most likely related to some bad fuel. We got it looked at it Winnipeg and it's been fine ever since.
Before Winnipeg, we spent a night at Moosomin Lake, which has a super nice little regional park with camping. It was also very quiet as everyone had gone back home for school and work. We still enjoyed our time exploring their giant chairs.
In Winnipeg, we got lots done! We did a big shop, loaded up with supplies, got our truck looked at and sorted out and spent a morning walking around downtown. It was a beauty blue sky day and we really enjoyed all the public art and parks by the river.
After Winnipeg, we set our sights for Northern Ontario. We were excited for this next chapter and also to see some family and friends. Next stops will be Kenora and Thunder Bay.
Below is a link to more photos from this segment of our adventures.