We just had an amazing week near Dresden, Germany visiting with my family, and exploring all that Saxon Switzerland had to offer! Our week also included a ton of fun activities with Steam: Steam Train ride to Radeburg and a Steam Boat cruise up the Elbe to the Königstein Fortress. We ended our week with a wonderful picnic watching the Steam Paddleboat fleet on parade for May 1st!
Our visit to Dresden was primarily to visit with my Uncle and his family and we really enjoyed all that we were able to do with them. My Uncle toured us around to see Morritzburg, Meissen, Pilna, Radeburg, Radebeul and all around this whole region, including the Czech Republic! He was such a great tour guide! We got to see the Bastei ancient fortress in the mountains, and his old shop and favourite spots for coffee and cake!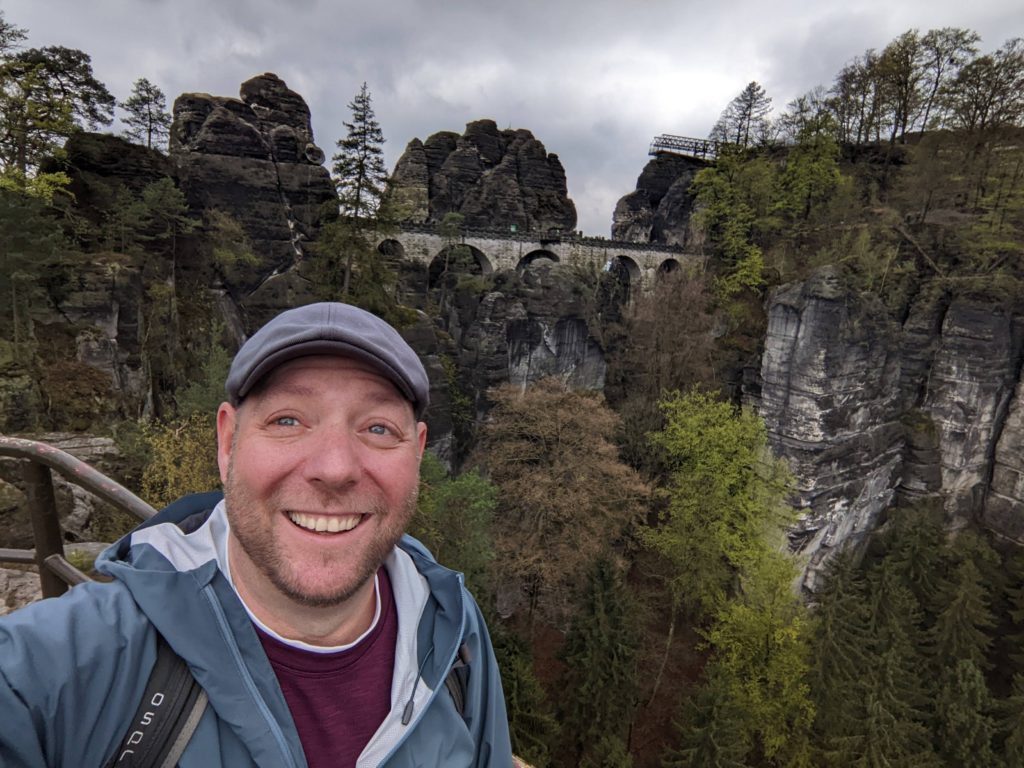 We really enjoyed the time we had with family, exploring the region, catching up and connecting after a long time! Our personalized tours were the best, and my Uncle, who knew the whole area so well, told us fascinating bits of history and knowledge with every town. We truly appreciated all this time he spent with us and how much he was able to show us.
Learning about time in the GDR, from my family was very powerful. Because of the split in Germany after World War 2, half my family was back in East Germany and my father's family emigrated to Canada and there was not a lot of connection for many years. It was really good to spend time, to picnic, to explore and to hear about all the events and things we missed. My Uncle and his family were so gracious and made our stay so very special and unique! We got to see so many special spots away from the tourists and busy spots. Thank you Gerhard, Petra, Eike, Stephan and Linnea!
While we were in Dresden, we also got to explore and see all that the downtown, historic city center had to offer! We especially enjoyed all the restored architecture and modern developments, the parks and the Green Vault, the collection of the most valuable and precious artifacts from the Saxon lords of the last many centuries. It was truly impressive, but no pictures allowed!
A highlight for me was to be able to go for a drive with my Uncle in his fully restored 1938 Mercedes Benz! This has been a project of his for over 6 years and it was an amazing experience to enjoy driving with him around Dresden on a sunny day! Of course this car got so many looks and admirers everywhere we went and I am so impressed with his work and abilities to bring this car back to glory. It was a special treat and a wonderful time!
Overall, our stay in Dresden was amazing! We loved it and would come back any chance we get. It was sad when we had to leave and we wish we had more time to spend with our amazing family there. The whole of Saxon Switzerland was incredible, the history, the Steam trains, Steam Boats and old cars, the food, beer and views all made this week a big highlight for both of us. We will definitel be back on day soon!
Below is our exciting and fun video from this visit, and below that, a link to some indivudual photos and videos. Please enjoy!
Photos from this part of our trip! https://photos.app.goo.gl/iKMazhLxaHAUQEtp8