What a busy week we had in Vienna, Florence and Genoa! These three cities were each super beautiful, fun, and extremely busy! We started off in Vienna at a hip hotel, near the central train station, and were able to slowly explore this historic town. Transit there is easy, and we were able to explore the center tourist district on foot, walking along the river, and checking out the many Hapsburg palaces and gardens. It was pleasant, warm weather and we enjoyed the chance to learn a bit more about this fantastic wealthy city,
One of the highlights was the Hundertwasser house and museum! This inspirational architect designed new forms and structures that were not rigid, but flowing, full of nature intertwined within and without. They are definitely unique and I wish that more architecture around the world would adopt some of these ideas. It was so inviting and engaging to see and explore and I recommend it as a must see if you are ever in Vienna. We also enjoyed walking around the pemanant amusement park, the Prater, and seeing all the teenagers skipping school to go on the rides around the park.
We had our first overnight train from Vienna to Florence! It was on the Austrian rail line, OBB and their Nightjet service. The cars were a little older, but it worked out great. We shared our booth with a Ukrainian couple who were emigrating to Canada. It was so special to be able to meet them, answer all their questions about Canada and to become friends for when we are back home. The car was a little loud and rattling through the night, so not our best sleep, but we were happy to arrive in Florence in the morning.
Florence was a treat! It was warm, sunny and busy, with lots to see and eat while there. We really enjoyed how walkable the city was, and the beauty around almost every corner. We explored the traditional Cathedrals, squares and markets, as well as crossed over the river many times to see the views, parks and flowers on the other side. We especially enjoyed the sculptures and frescos all around the city and the tiny alleyways interconnecting all our walks. We shopped, ate, and lounged for three days and really enjoyed our time there. It was busy with lots of English tourists, as well as Stag and Stagette parties, and there should be lots of weddings coming up this summer!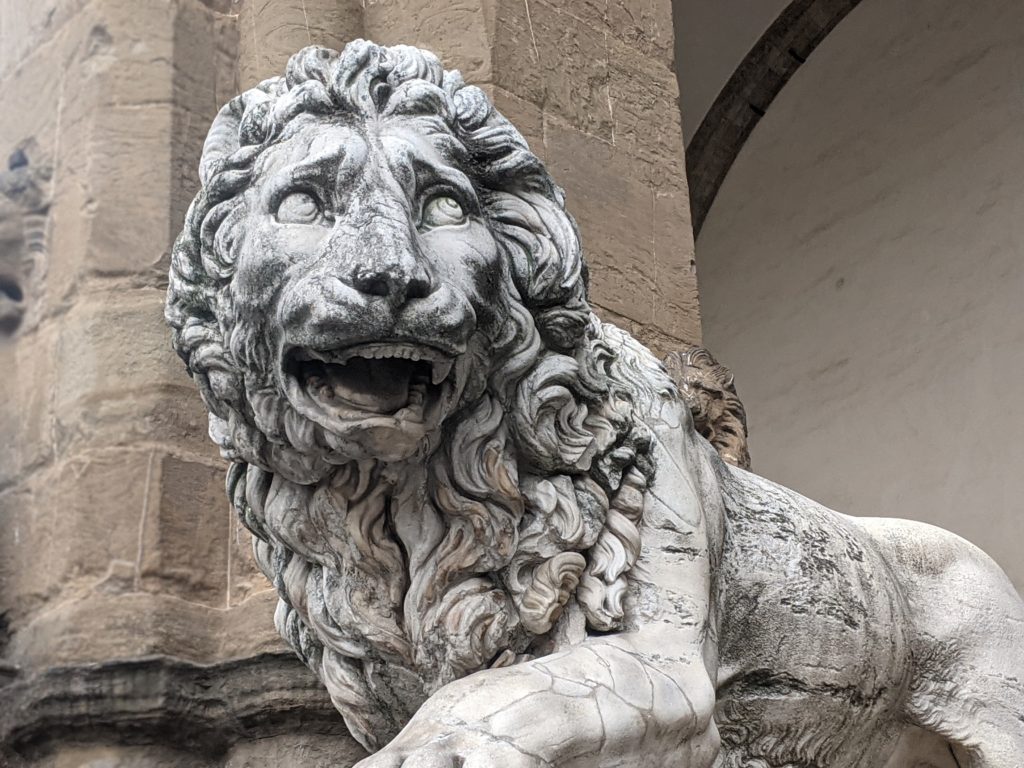 The artwork, history and culture in Florence was unbeliveable, with so many incredible works on display. The food and people were fantastic, as we had delicious meals and met many nice Italians. Our hotel was very close to the center of the city. We were able to do some laundry, and because we had our own apartment with a kitchen, we cooked some meals on our own at home, and shopped at the wonderful Mercato Centrale. The only annoying part of staying in Florence was the mosquitos! A total suprise to find out that we had them all over our apartment in the evening. It required a special bed time routine each night to get rid of them all before sleeping.
The train from Florence to Genoa was quite special. First we had to transfer in Pisa, and then take the coast all the way up and around to Genoa. We got a few nice views, but much of the journey was through long tunnels. We did get to see some cruise ships and some nice beaches along the way. Once we arrived in Genoa, we got checked into our hotel, and began exploring this ancient and vibrant port city. One of the coolest things in the Harbour was a giant Pirate ship "prop" built for the Roman Polanski movie "Pirates". Everything on the ship was fake, but it was still able to sail!
Our hotel was very near a tiny little bay outside Genoa, called Boccadasse Bay, or "Donkey's mouth" as it was translated. It was super cute, and a little less busy with lots of nice patios and spots to sit and enjoy the sun and the breeze. I enjoyed a delicious "suprise" pizza at a restaurant nearby and we came down each night for some Gelato and to see the sunset. The staff at our hotel were wonderful and very helpful with all sorts of tips and advice for our time in Genoa. We also enjoyed taking a city bus east along the coast to explore some more gorgous bays, beaches and tiny villages while we were there. Genoa was a great place for us and we hope to be back on day!
Below is the video for this segment of our trip and it showcases some of the best of our time there, so check it out. For many more pictures of these cities, see the link below the video! We are now off to Villefranche Sur Mel, near Nice, France!
Photos for this post: https://photos.app.goo.gl/6vu6e2ZHdZdu3Zzv5