After our wonderful time in Italy. we headed west along the top coast of the Mediterranean Sea into France. Caroline had booked us a wonderful little apartment for a week in Villefranche-sur-Mer, a tiny little village inbetween Monaco and Nice. It had a bunch of delicous restaurants, a small beach, a market and a train station! It was warm and sunny and we thoroughly enjoyed our week there, with lots of beach time, hiking and exploring nearby.
Our apartment had a tiny little balcony, and a slice of a view of the bay, just one block away. We were on a pedestrian only little alley with a restaurant right below us, a bakery nearby and small shop for groceries down the block. We also enjoyed the bi-weekly market up the hill for fresh veggies and cheese, olives and little croquettes, a type of roasted cornish hens that we shared for dinner! Our hosts were fantastic, and the apartment had a full kitchen, washing machine, and all the beach equipment we needed.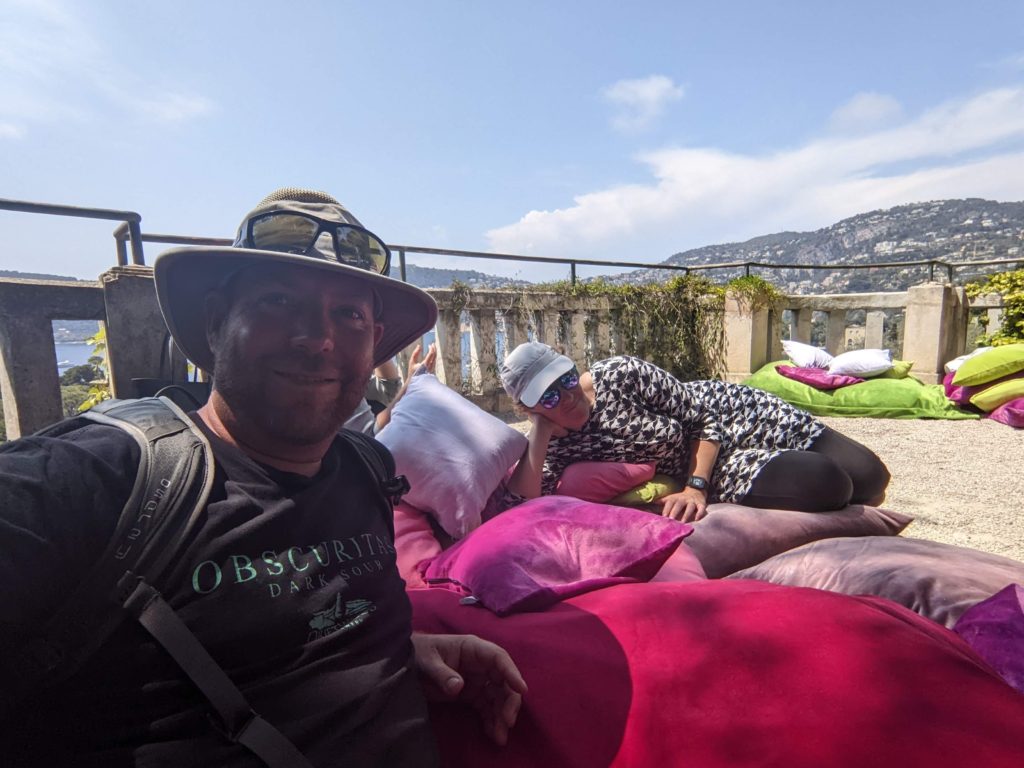 One of our first adventures was to go explore along the side of the bay, and we were not dissappointed! We happend upon the Fete de Roses, an annual weekend festival at the nearby Rothchild's estate and palatial gardens. It was beautiful and extra special for all the unique presentations and beautiful experiences that were arranged for the visitors. We especially enjoyed lounging on the velour pillows and listening to engaging french poetry all about roses and flowers. It was incredibly relaxing and inspiring! We also got to enjoy a syncronized water display in the fountains, and a ballet presentation before a special ceremony to recognize a retiring gardener with his own named type of Rose plant. Then they released the doves. It was a great day!
Our next adventure was to take the train to Monaco, a few bays to the east, where we arrived after a very busy weekend hosting the historical Grand Prix. There were seating stands setup all over the roads and lots of people working hard to clean up after the event. The giant yachts and helicopters were leaving en masse all day as the wealthy spectators were all leaving town. We walked up the hill to visit the Royal Palace and got to see the changing of the Guards, which was interesting, but not as elaborate as the English Royals in London. It was very hot, and we explored the city, harbour and even went to the Monte Carlo Casino, but could not gamble as Caroline did not have any ID with her!
It was incredible to see all the mega yachts, with boats inside of boats and helicopters on the back. We were gobsmacked by the wealth and oppulence of Monaco and felt very out of place. It was busy, but with mostly staff, and workers everywhere, but you could sense the wealth all around us It made us reflect a lot on the inequities of this Principality, especially as our phones would not work here and we could not even use our data to find our way around. I don't think we will ever be back.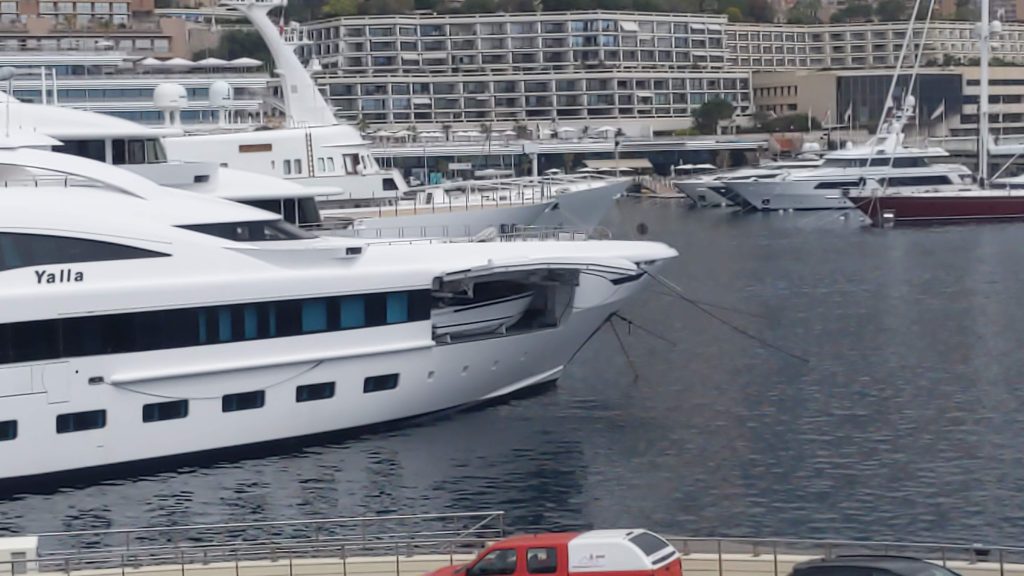 The changing of the Guard at the Royal Palace was a formal event every couple of hours and we were able to be there when they changed over. The soldiers had pristine white uniforms and heavy automatic weapons. I'm not sure they've ever been invaded here, but they certainly are ready for anything.
Our next adventure was to go west, to the next bay over to Nice, a much more reasonable city with a long beach and beautiful walkway along the front of the bay. We did a little shopping for some warm summer clothes, as we are now south enough to not need any of our spring clothing. We had a delicous meal, and had a really nice chat with a recently engaged young woman on the beach where we compared teenagers in Canada and France. We also saw the sailing school getting towed out to practice and learn on a beautiful afternoon.
So, you are probably still reading, wondering "how did you get bowled over by a moped? Well, it was when we were in Villefranche-sur-Mer and we were returning from the market with our shopping. We were near our apartment, on a pedestrian only street and our guards were down. We did not really hear the moped coming up behind us, but soon, all we felt was a giant metal object right between us, hurtling towards a store display. We both fell outwards and the moped driver was able to stop before driving right into the shop. Both of us had our arms hit, but nothing too serious, just some light bruising. The moped was a La Poste, mail delivery moped, and the driver was super apologetic, and made sure we were both ok. The entire street of people all stoped to check us out and the shop owner came out to clean up the display. It all worked out fine and we were laughing about it in no time, but we both felt it was only a matter of time before we had a moped issue, as they are everywhere in Europe! We are glad our interaction was so minor and will keep our wits about us in the future!
Our last meal in Villefranche-sur-Mer was delicious and we especially enjoyed the Moules et Frites. We look forward to some more excellent meals as we head out to Nimes, France with lots of Roman restorations and then onto Spain next. Below is our video from this part of our trip, and a link to extra pictures below that. Enjoy!
Photos from this part of our trip: https://photos.app.goo.gl/Kog6zR6mkHvExoNbA